Use the Templates feature to build consistent teams, faster. Locked Skills further help you manage permissions on your content.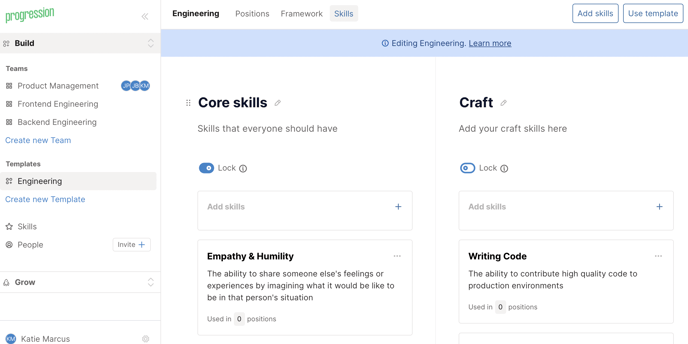 What are Templates?
Templates help org owners quickly create framework starting points that can be tailored by team editors to suit their individual disciplines. Core skills can be specified and centrally managed, including the ability to 'lock' skills to protect against non-admin edits. This ensures that frameworks and skills remain clean and consistent even when control is delegated to team editors.
What they help you do
Provide an inspiring, relevant and standardised starting point for new teams to get started with

Specify required skills for teams that cannot be edited or removed, such as our company values or core human/leadership skills

Specify a shared methodology or starter pattern for defining tracks and positions

Ensure that team editors can't modify content that you want to keep consistent and protected
How to use Templates
To create a Template:
Select 'Create new template' from the Templates section of the Build navigation.

Give it a name and you'll land in the team template builder.

Now build your template. These are built out much like a normal team, but with some key differences that help you constrain and control their use in subsequent teams. Here are some pointers:

In the Positions tab, you're building out a structure for teams that use the template to follow. Try setting up generic tracks and giving positions generic names. Team editors using the template can then tailor these to suit their own teams.

Employees can't be assigned to positions in a template team.

In the Skills tab, you can specify one or more required skill categories. These contain skills that should be present in every team that uses this template - editors won't be able to edit or remove this category. To do this, create a category and switch on the 'Lock category' toggle, then add skills to this category.

You can also set up and name other unlocked categories, to which your team editors will add their team-specific skills - for example, add a 'Craft' category.

Your template can include both admin-locked and unlocked skills. Editors won't be able to modify locked skills.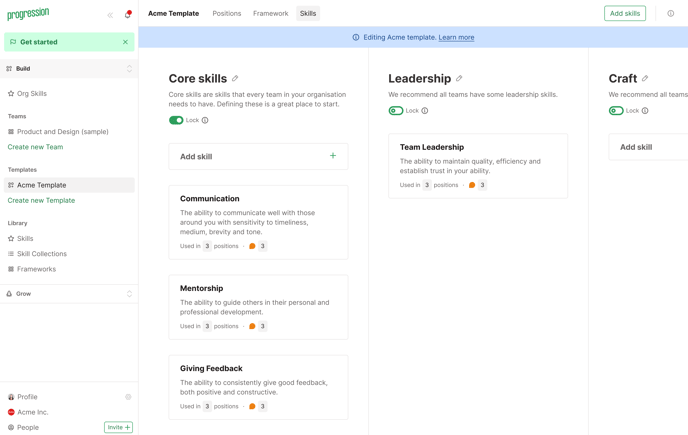 To apply a Template to a new team: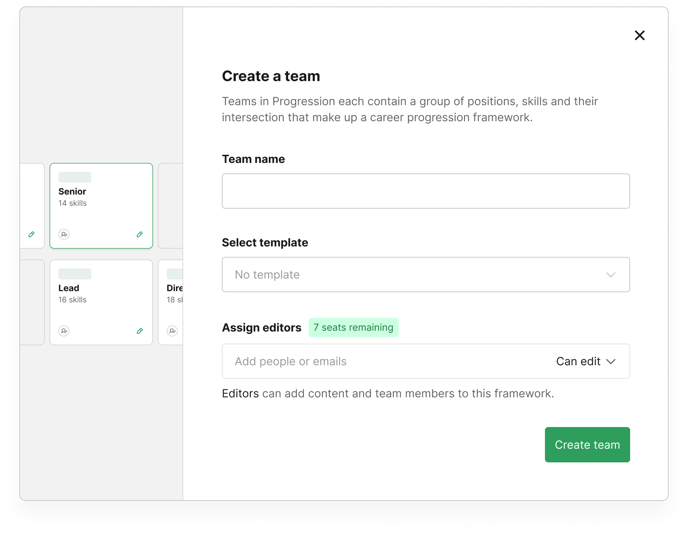 In the left-hand Build navigation or on the Org homepage, click the Create New Team link

Select the template you want to apply

You can also assign and invite Editors to work on the templated team.
To work on a templated team as an Editor: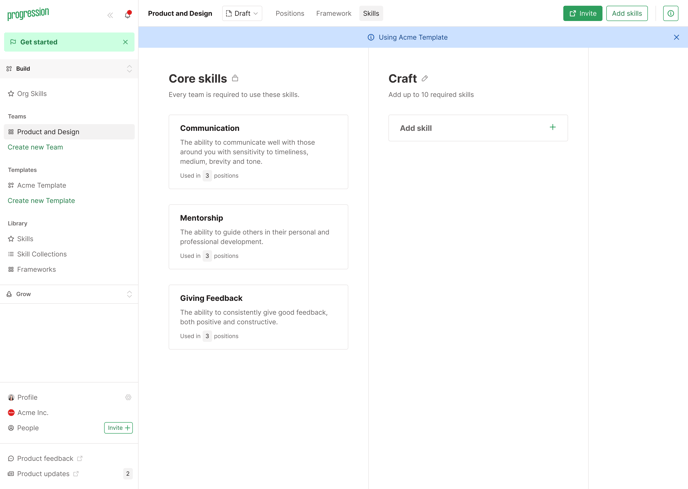 Editors can navigate to teams they're permitted to edit from the Build section of the left-hand navigation or the Org homepage.

They will see locked skill categories & skills, but can't edit or remove them

They can edit position names and details, and add new ones to match their team's structure

They can add new skill categories and skills to build out their team's discipline
To control who can edit a Skill
Admins can additionally set per-skill edit controls - useful if you want to protect core organisation skills from changes by Editors.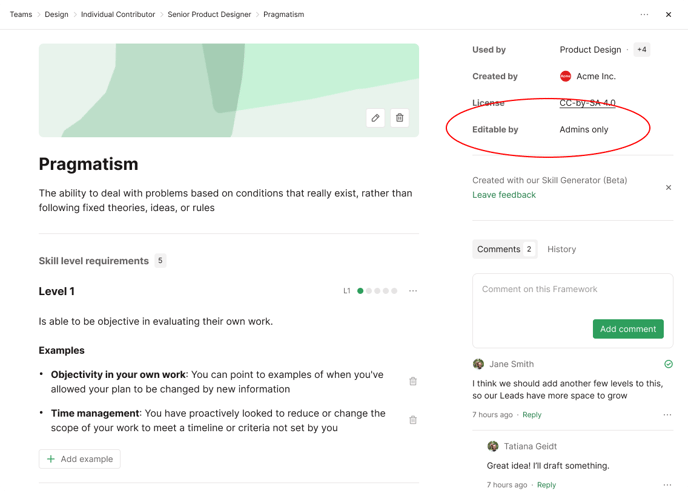 In the right-hand column of any skill's edit modal, select 'Editable by: Admins only' or 'Admins and Editors'

If a skill is admin only, then editors can't change any of the content of the skill (name, description, levels or examples).

Editors can see if a skill is editable by admins only, but only admins can change this setting.

We label skills that are admin-only on your org skills page, and also allow filtering on the edit level of the skill.
FAQ
At what stage of my framework build process are templates best used?
We recommend getting started with Templates when you are ready to build out frameworks for several teams in your your organisation, and want to keep scale and consistency in mind from the start.
Once you understand the basic building blocks of the framework - skills, positions and requirements - and have an idea of the way you'd like to structure your teams and the core skills you'd like every team to adopt, you're all set to create those teams, invite Editors, and get them started with a Template.
Can I apply a template to existing teams to help standardise them after the fact?
Not at the moment, but contact us if you'd like help in standardising and migrating your existing content!
How much team functionality is different in a template vs a normal team?
Templates do not contain:
Publish/visibility settings - templates are only visible to admins

Cover images, open roles, people and editors
What happens if I edit or delete a Template once it's in use with teams?
Changes to core org skills will automatically populate down to all teams using the skill.

Adding a new required skill or category will not affect teams already using the template, but will kick in for any subsequent teams created from the template.

Updating positions or tracks will not affect teams using the template, but all new teams will start from these changes going forward.

If a template in use is deleted, the relationship with teams using the templates will be broken and locked categories will become unlocked.
Can I further control the ways that editors build out their discipline teams? (e.g. maximum skill counts, standardised naming conventions for positions)
Not at the moment, but it's on our roadmap!