What a check-in is and how they help measure progress for your team
Introduction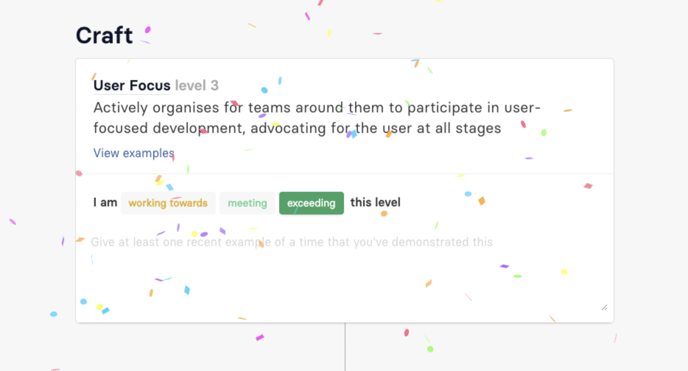 A Check-in is a career development conversation between an individual and an assessor. It's a simple three-step process that you can use to assess your progress towards a position within your organisation.
The goal is to allow you and your manager to discover and agree on areas that you can focus on to grow towards your next milestone - whether that's deepening existing skills or learning new ones.
After each Check-in you'll have renewed clarity about your strengths and opportunity areas and can form a plan for your next steps.
How it works
Initiating a check-in
Check-ins can be started in a couple of places:
Click the Plus icon next to the Activity navigation item and select the Check in tab.
From the Check-ins page, select the Start New button in the top right.

Managers can initiate a check-in on behalf of their reports from their Reports page. the report will be notified by email that the check-in is ready for them to assesss.
Completing a check-in
There are 3 stages in a check-in.
Stage 1: Self-assessment
You will select how you feel you're progressing against each of the skill levels required for the position. You can write notes and select your progress from the options Working Toward, Meeting or Exceeding.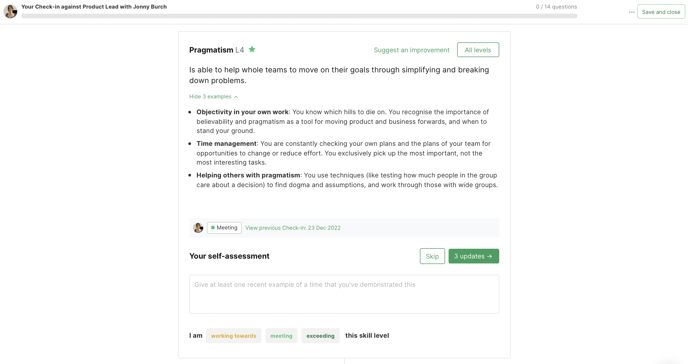 Tip: Click the 'Updates' button to view a feed of activity you've logged against each skill to help you recall your achievements.
Stage 2: Assessor assessment
The check-in assessor will then select how they feel you're progressing against each of the skills required for the position and leave their own comments.
They have the option to view your answers or complete this stage without seeing what you recorded in stage 1.
Stage 3: Joint review
Together, you and your assessor will agree on your final check-in results and agree the next steps in developing these skills. You'll be able to record notes and actions against each skill and write an overview.
Completed check-in
Once completed, you'll land on a summary page which gives an overview of the check-in outcomes and lets you plan next steps together.
Skill map and comparison
The top section shows the 'shape' of your skills based on the check-in results, and lets you select other positions in the organisation to overlap your latest skill profile against.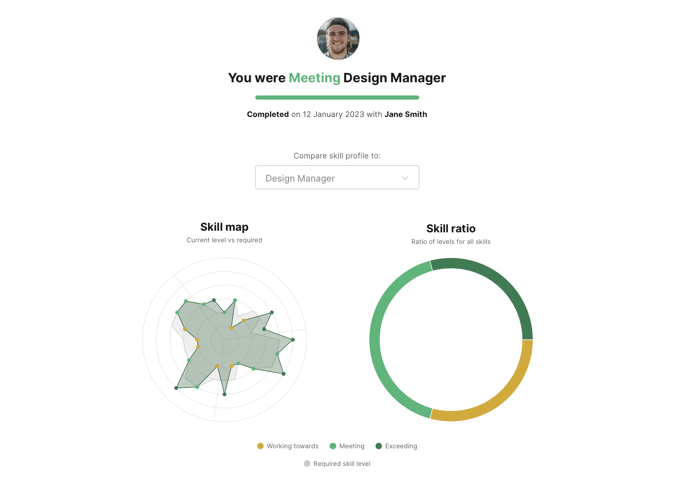 Strengths and improvement areas
These lists summarise the skills you are most exceeding and working towards based on the assessment. It's a good time to star new skills to focus on improving.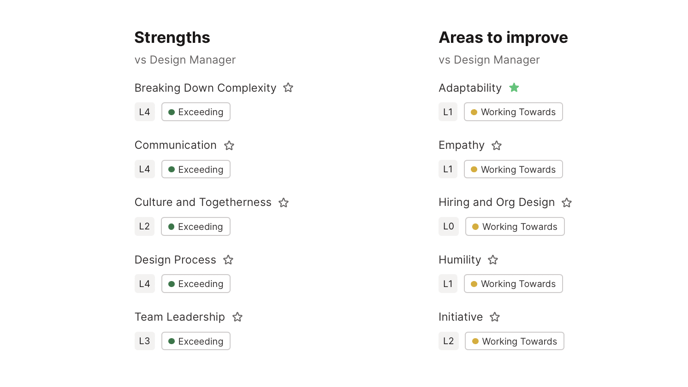 Summary and Actions
You can write a check-in summary if you didn't already, set new Actions based on the topics discussed, and get a reminder of how you assessed on each skill.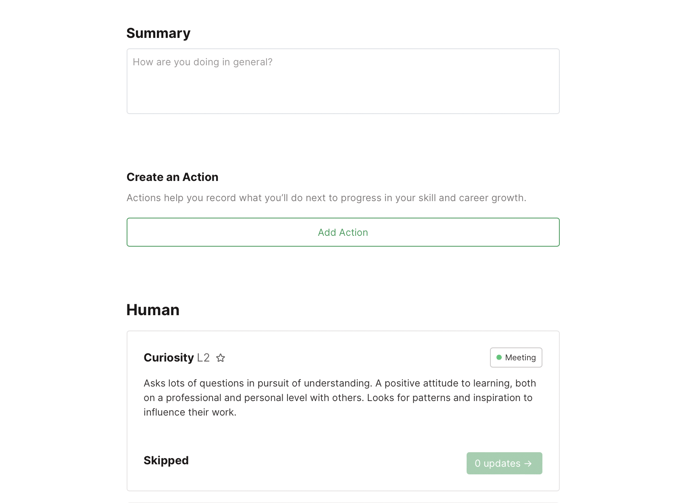 You can return to this summary page at any time from your Check-ins page.
Q: Who can view a check-in?
A: Check-ins can be viewed by:
The check-in assessee The person that initiated the check-in.

The check-in assessor The person that does step 2 of a check-in, normally it is the assessee's manager.

The assessee's higher reporting line (if any) This enables a senior manager to view the progress of their reporting line.
Q: Who can't view a check-in?
A: Anyone else, including Team editors, other team members and other managers.
Q: What happens to completed check-ins if a position or skill changes?
A: Inevitably as you go along, the expectations of different positions and the definitions of the skills you use will need to be updated.
The good news is, nothing will change. Any check-ins will still exist, and any content that was required at the moment that the check-in was started will stay the same. (This is also true if any content changes while a check-in is in progress).
That means that your completed check-ins will always be snapshots of your skills against the expectations of your role at that moment in time, so no moving the goalposts.
You can safely change:

The content of a skill

Which skills are in positions

Which skills exist (you can fully delete skills)

The position that the person is in, and their manager
Q: Can I export a check-in?
A: Yes. Click the overflow menu at the top-right. From here you can download a CSV or PDF file.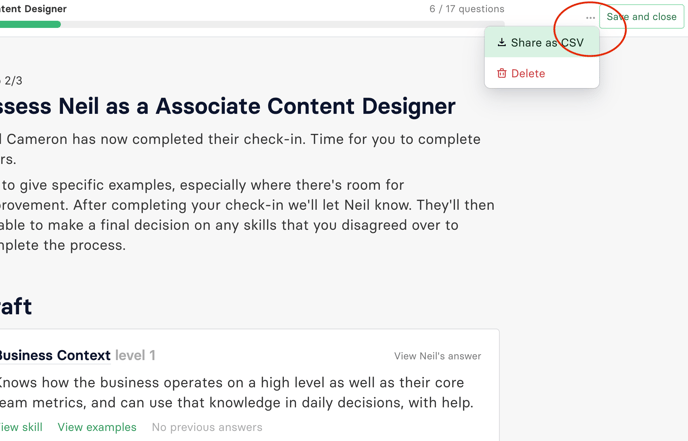 Q: Can I skip skills in a check-in?
A: You can only skip a skill if you have previously completed a check-in against that skill. So the first check-in you complete will need to be a full check-in. If you move in to a new position or have new skills added to your current position you also won't be able to skip those new skills.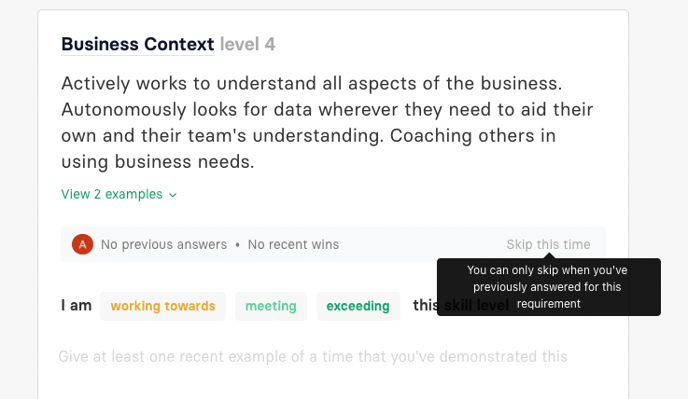 Q: Can I still comment as an assessor if a team member has skipped a skill?
A: Yes, you'll still be able to assess skills a team member skipped. It'll be obvious in the joint review which skills each of you has skipped so everything is set up for an open discussion about your team member's development.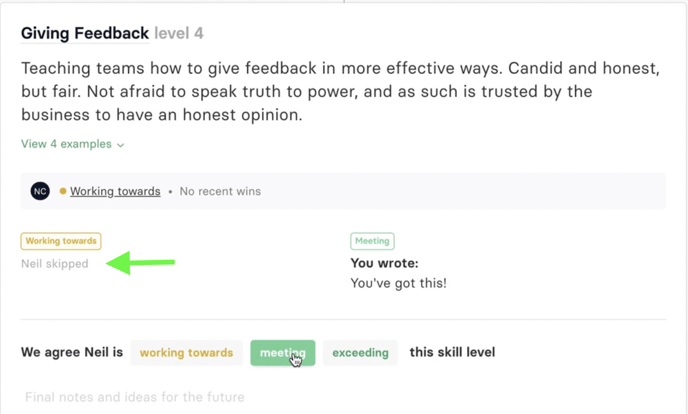 Q: What happens if I skip a skill in a check-in?
A: A check-in author can choose to skip skills during a check-in. When skipped we'll assume the previous rating from the last check-in still stands.

Whilst your shape and summary will be complete, remember skipped skills will mean we're assuming there's been no change since last time around.
Q: How is the check-in summary calculated?
A: See more detail here