This article is for Project Leads.
You'll work with your Progression Onboarding Lead to set milestones and define your success criteria in the pre-kick off and kick off sessions held at the very start of the project.
Milestones
You'll set target dates to meet the following key milestones:
✔️ Framework implementation kicked off
✔️ Framework parameters agreed
✔️ Framework template and core skills built
✔️ Team managers onboarded
✔️ Team members onboarded.
All milestones will be documented in your Framework Implementation Plan.
💡 Step-by-step guidance to reach each of these milestones is included within this manual.
Success criteria
It's important to define the success criteria and set expectations right at the start of the project.
Your success criteria will depend on your organisation's goals, but will likely include:
Team framework rollout status
By the end of week four, what percentage of frameworks have been built, reviewed and are ready for rollout?
You can check the status of each team's framework in the Build Overview section of the app.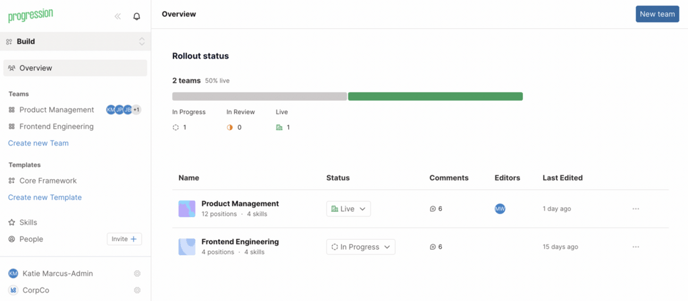 Following rollout, what percentage of employees agree that they have a clear idea of what they can do within your organisation to progress?
Often, organisations first turn to Progression because their team has explicitly asked for more career clarity, or because they've scored low in development related pulse survey questions. So you should revisit the question again a month or two after rollout and calculate the percentage change.
If in doubt, your Progression Onboarding Lead can support you to find the best way to measure success here.
In the first six/twelve weeks following rollout, what percentage of your organisation has accessed Progression?
We'll share your organisation's usage rate during the Quarterly Review meetings you'll have following rollout, and support you to improve this figure where needed.
Your Progression Onboarding Lead can also provide you with this data at any time on request.
💡 You'll work with your Progression Onboarding Lead to define what success looks like for your organisation during your kick off session. This is then captured in your Customer Success Plan, ready to refer back to later.